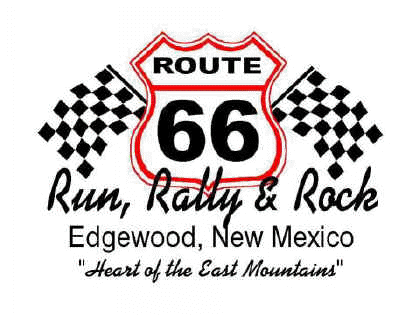 The quintessential host for a large Rt. 66 celebration is the small town of Edgewood, NM. Situated amidst a quiet stretch of the world-famous highway, Edgewood exudes the very essence of the "Mother Road."
Edgewood is akin to many now-gone towns of yesteryear. It is a place where hospitality, hard work and traditional values still take center stage. Even today, the town does not have a single traffic light. The original two-room school house still stands (and a handful of locals can tell tales of their days there). At a corner service station you can still get repair service, along with good conversation and an owner who knows everyone's name.
It seems only fitting that the heart and soul of Rt. 66 be where the celebration abounds. That is why this tiny town has stepped up to the challenge. In honor of the road's 75th Diamond Jubilee Anniversary, Edgewood will host the first Annual Rt. 66 Run, Rally & Rock.
As the name implies, this is a fun-filled festival with something for everyone. Registered participants in the 5K or 10K races, and the 1K fun run/walk will enjoy hundred mile views and fresh clean air, along with a free event T-shirt and Pancake Breakfast. Of course, race fans and guests are also welcome to join the breakfast (for a modest fee). Prizes will be awarded to top finishers in each race category.
Not one, but three traditional Car Rallies will converge on Edgewood, starting from Albuquerque, Santa Fe and Santa Rosa. Once assembled here for the Classic Car Show, these wonderful machines of the past will bring history alive for all to enjoy. Rally and Car Show participants are eligible for prizes. Food and Game booths, face painting and an Astro Jump will keep things hopping at the car show.
Meanwhile Wildlife West, an exceptional local nature park, will be the site for viewing native New Mexican animals and habitat, a juried Arts & Crafts Show, Business Expo, hands-on Kids Krafts Korner, demonstrations of remote controlled planes and cars, Horse drawn Hayrides, and non-stop entertainment in the covered amphitheater. Free parking and shuttle service will be available throughout the festival and town all day.
The Town of Edgewood invites you to join us for this fun-til-you-drop good time. Events begin at 8:00am and continue until 5:00pm. Many local businesses will offer festival specials, so after the day's events you can enjoy dinner at one of our local eateries. Then, take your own ride in history, as you traverse the peaceful path of Route 66 to your destination. For more information, please contact Linda Burke 286-5655.